It's been a long winter here in Michigan, one of the coldest in many years. With temperatures greater than 20 degrees below zero multiple times, it seemed it would never end. I woke up this morning to the sound of crashing thunder; quite the change from -27 degrees below zero!!
As the chief agent conducting pre binding inspections on our home owner's policies; I'm reminded of how a little problem can turn into a large cost for the home owner. Here's an example: Today I was doing an inspection; I found a piece of vinyl siding missing and the adjoining piece jagged and peeling away from the home. Perhaps it had been hit by a lawn mower.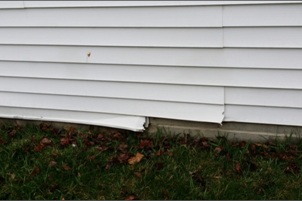 As a homeowner you may look at this small issue and think "it's no big deal". In its current state you are correct; the problem is that these "little" problems can turn into a LARGE expense for YOU! Let me explain:
Say that thunderstorm this morning went right over this house with large gale force winds and catches this piece of siding. The wind is so strong that it "peels" back the siding. If you don't know how siding is attached; each piece overlaps the piece below it – so it's all connected. Once the wind starts "peeling back" one piece it will affect the rows above it as well.
Let's say for example's sake that this wind gust takes out three rows of siding from the bottom and they need to be replaced. This would most likely be covered under you home owner's insurance policy; however it is subject to a deductible in nearly all home owner's policy. The average policy has a $1000 deductible for a claim to be filed. That means that this home owner will have to pay the first $1000 before the insurance company begins to pay out any claim.
This homeowner would have to pay for this repair themselves as the damage would be most likely under $1000. It would be far better for them to repair this loose siding and eliminate the problem before a bigger more expensive event takes place.
In this example it was siding but it could be any number of things on or around the home that could cause further damage if not attended to.
Here are some tips to help you "batten down the hatches" before the storms get into full gear this year!
Thunderstorms
A thunderstorm is considered severe if it produces hail at least 1 inch in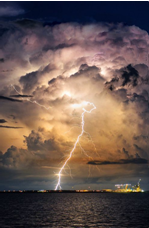 diameter or has wind gusts of at least 58 miles per hour. Every thunderstorm produces lightning, which kills more people each year than tornadoes or hurricanes. Heavy rain from thunderstorms can cause flash flooding, and high winds can damage homes and blow down trees and utility poles, causing widespread power outages.
Know the Difference
Severe Thunderstorm Watch - Severe thunderstorms are possible in and near the watch area. Stay informed and be ready to act if a severe thunderstorm warning is issued.
Severe Thunderstorm Warning - Severe weather has been reported by spotters or indicated by radar. Warnings indicate imminent danger to life and property.
Every year people are killed or seriously injured by severe thunderstorms despite advance warning. While some did not hear the warning, others heard the warning and did not pay attention to it. The information in this section, combined with timely watches and warnings about severe weather, may help save lives.
Tornadoes
Tornadoes are violent by nature. They are capable of completely destroying well-made structures, uprooting trees and hurling objects through the air like deadly missiles. A tornado is a violently rotating column of air extending from the base of a thunderstorm down to the ground. Tornado intensities are classified on the Fujita Scale with ratings between F0 (weakest) to F5 (strongest). Although severe tornadoes are more common in the Plains States, tornadoes have been reported in every state.
Know the Difference
Tornado Watch - Tornadoes are possible in and near the watch area. Review and discuss your emergency plans, and check supplies and your safe room. Be ready to act quickly if a warning is issued or you suspect a tornado is approaching. Acting early helps to save lives!
Tornado Warning - A tornado has been sighted or indicated by weather radar. Tornado warnings indicate imminent danger to life and property. Go immediately under ground to a basement, storm cellar or an interior room (closet, hallway or bathroom).
Property Preparation
Clean up the yard - While it may seem obvious, www.daveytree.com has many recommended practices to get things trimmed up and prevent limbs from damaging your home during a storm. They recommend pruning, identifying weak limbs and many more helpful tips for prevention. Go to www.daveytree.com for more.
Tighten up – Do a walk around your home and check for loose fittings such as shutters, siding, gutters and downspouts. Just as in the example above a little prevention and maintenance goes a long way!
Emergency kit – I remember being a kid and during a bad storm my mom would make us "high tail it" to the basement. There we would find blankets, flashlights, candles and a battery powered radio. Moms do know best and we should follow suit. Have a plan for the safest spot in your home in the event of a tornado warning, power outages etc. You may need to survive on your own after an emergency. This means having your own food, water and other supplies in sufficient quantity to last for at least 72 hours. Local officials and relief workers will be on the scene after a disaster but they cannot reach everyone immediately. You could get help in hours or it might take days.
Additionally, basic services such as electricity, gas, water, sewage treatment and telephones may be cut off for days or even a week, or longer. Your supplies kit should contain items to help you manage during these outages. Survival kits are available online for purchase with this items pre-packaged.
Roof – Loose shingles, lifted edges on shingles, flashing and trim can be huge problems.
Cracked caulk or rust spots on flashing.
Shingles that are buckling, curling, or blistering.
Missing or broken shingles.
Cracked and worn rubber boots around vent pipes.
Missing or damaged chimney cap. (OK, that's technically not part of your roof, but since you're looking anyway.)
Masses of moss and lichen, which could signal the roof is decaying underneath. Black algae stains are just cosmetic.
If you find piles of colored grit from asphalt roof tiles in the gutters, that's a bad sign — those sand-like granules cover the surface of roof shingles and shield them from the sun's damaging ultraviolet rays. Check the age of your roofing and see if it's nearing the end of its life cycle.
Severe Weather Facts & Myths
www.weather.gov/om/severeweather
Myth: Highway and interstate overpasses are safe shelters against a tornado.
Fact: Overpasses can concentrate the tornado winds, causing them to be significantly stronger. This places the people under them in an even more dangerous situation. In recent years, several people seeking shelter beneath overpasses have been killed or severely injured. Being above ground level during a tornado is dangerous.
Myth: The low pressure with a tornado causes buildings to explode. Opening the windows will equalize the pressure, saving the building.
Fact: Opening the windows in an attempt to equalize pressure will have no effect. It is the violent winds and debris that cause most structural damage. It is more important for you to move to a safe area away from windows and exterior walls. With a tornado, every second counts, so use your time wisely and take cover.
Myth: Thunderstorms and tornadoes always move from west to east.
Fact: More often than not, thunderstorms move from west to east. Conditions in the atmosphere dictate how and where storms will move, and it can be in any direction. Tornadoes have been known to act erratic, and can change directions and speed very quickly. Never try to outrun a tornado in a vehicle.
Myth: It's not raining here, and skies above me are clear, therefore I am safe from lightning.
Fact: Lightning can strike many miles away from the thunderstorm. If storms are in your area, but skies happen to be clear above you that certainly does not imply you are safe from lightning. Though these "Bolts from the Blue" are infrequent, lightning strikes 10 to 15 miles away from the storm are not out of the question.
Myth: Since I am inside my house and out of the storm, I am completely safe from lightning.
Fact: Just because you have taken shelter inside, you are not automatically safe. While inside waiting out
a storm, avoid using the telephone or electrical appliances and do not take showers or baths. Also stay away from doors and windows. Telephone lines, cords, plumbing, even metal window and door frames are all lightning conductors and pose a threat
Myth: Large and heavy vehicles, such as SUVs and pickups, are safe to drive through flood waters.
Fact: It is a common belief that the larger the vehicle, the deeper the water it can drive through. Many
people do not realize that two feet of water can float most vehicles, including SUVs and pickups. If the
water is moving rapidly, vehicles can be swept away.
Myth: Flash floods only occur along flowing streams.
Fact: Flash floods can and do occur in dry creek or river beds as well as urban areas where no streams are present.
By Bill Adams
Kennedy Nemier Insurance Agency
Statements in this article as to policies and coverages provide general information only. This information is not an offer to sell insurance. Insurance coverage cannot be bound or changed via submission of any online form/application provided on this site or otherwise, email, voice mail or facsimile. No binder, insurance policy, change, addition, and/or deletion to insurance coverage goes into effect unless and until confirmed directly by a licensed agent. Any proposal of insurance we may present to you will be based upon the information you provide to us via this online form/application and/or in other communications with us. Please contact our office at 734.454.4058 to discuss specific coverage details and your insurance needs. All coverages are subject to the terms, conditions and exclusions of the actual policy issued. Not all policies or coverages are available in every state. Information provided on this site does not constitute professional advice; if you have legal, tax or financial planning questions; you should contact an appropriate professional. Any hypertext links to other sites are provided as a convenience only; we have no control over those sites and do not endorse or guarantee any information provided by those sites.